Ilene H. Ferenczy, J.D., CPC, APA, is the managing partner of Ferenczy Benefits Law Center LLP, an employee benefits law firm in Atlanta, GA. Ms. Ferenczy advises clients on all types of employee benefit plans, particularly focusing her practice on qualified retirement plans, benefits issues in mergers and acquisitions, and advising third-party administrators of employee benefit programs on technical and practice issues. Having become an attorney after more than ten years as a third-party administrator, she brings a unique and practical approach to her advice. She is a member of the State Bars of Georgia and California, and holds designations as a Certified Pension Consultant from the American Society of Pension Professionals and Actuaries (ASPPA) and Accredited Pension Administrator from the National Institute of Pension Administrators.

Chuck Humphrey is principal of the Law Offices of Charles G. Humphrey in Buffalo, New York. He was IRS and Labor Department attorney and has focused his practice in the area of ERISA and employee-benefits law for more than thirty-five years. Having practiced in governmental, large law firm, financial institution, and consulting settings, he brings a fresh approach to problem solving for his financial institution and plan sponsor clients. He currently chairs the American Bar Association (ABA) Subcommittee on Multiple Employer, Professional Employer Organizations, and Controlled and Affiliated Service Groups and sits on the Fiduciary Responsibility/Plan Investments Subcommittee of the ABA. He is an original and continuing member of the IRS Northeast Pension Liaison Committee and a member of the New England Employee Benefits Council. He is a former member the IRS National Determination Letter Committee. He holds an undergraduate degree in history from the University Michigan and a law degree from the University of Buffalo Law School. He is admitted to practice in New York and the District of Columbia.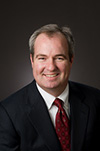 William Meyer, founder and CEO of SSAnalyzer.com, is a nationally recognized expert in Social Security claiming strategies. With Dr. William Reichenstein from Baylor University, he developed SSAnalyzer, the leading software for advisors. They provide comprehensive education and marketing programs that help financial advisors grow their business and give advice. His patented technology is recognized as the easiest to use with the deepest advice logic and is based on robust quantitative research. Meyer has been the featured speaker at national FPA, NAPFA, AICPA, and other practitioner events. He is a co-author of the Social Security eSource. Bill earned his Bachelors of Science degree in Psychology from UCLA and his MBA degree from the Anderson School at UCLA. He is a former Trustee of the Securities Industry Institute at Wharton and holds multiple securities licenses.

Dr. William Reichenstein is Social Security Solutions, Inc.'s Head of Research and a co-author of the Social Security eSource. Bill currently holds the Pat and Thomas R. Powers Chair in Investment Management at Baylor University. He has taught and researched in finance since 1978, with his recent work concentrating on the interaction between investments and taxes. Bill has written more than 130 articles for professional and academic journals. He is a frequent contributor to Journal of Financial Planning, Journal of Investing, Financial Analysts Journal, Journal of Portfolio Management, and Journal of Wealth Management, and is frequently quoted in the Wall Street Journal and elsewhere. Bill earned a BA in math from St. Edward's University and his MA and Ph.D. in economics from the University of Notre Dame. He is a Chartered Financial Analyst (CFA).

S. Derrin Watson, J.D., is a pension attorney and educator, consulting, speaking, and writing about a variety of pension topics, including 401(k), 403(b), 457, and 409A plans, and Form 5500 issues. He has been involved with qualified plans since 1977 and had his first case involving controlled groups shortly thereafter. Derrin has maintained a strong interest in this area ever since and has become the leading authority on controlled group, affiliated service group, and leased employee issues. He has just released the 7th edition of his book, Who's the Employer, A Guide to Employer and Aggregation Issues Affecting Qualified Plans on ERISApedia.com. In 2006, ASPPA awarded him its Educator's Award for his work in providing professional education to plan practitioners.